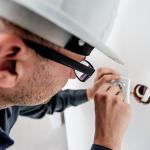 The letter issued by the Russian labour safety authority (RosTechNadzor) explains that all technical personnel working with electricity must undergo first-aid training with a specific focus on practical electric-shock treatment.
 According to the legislation, any person subjected to any injury that poses a hazard to the person's life or health, must be provided with a first aid. Only specially trained persons are allowed to provide such a first aid (Federal Law on the Health Protection of Citizens No. 323-FZ).
The training and examination rules (adopted by Decree No. 1.29 of 13 January 2003) require that all manual labour employees are required to undergo first aid training within one month from the date they have commenced work and to refresh their knowledge at least once every year. The employer must organize such training and refreshment sessions that also include first aid training.
All electrical service personnel must be trained to perform CPR and first aid for persons impacted by electrical shock, at the place of accident.
Law: Letter No. 10-00-12/781 of 31 March 2017