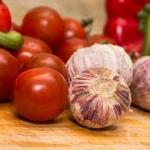 The new national Russian standard GOST R 56508-2015 "Organic production. Regulation for production, storage, transportation" entered into force on 1 January 2016.  The Standard applies to organically produced food of animal, plant or microbe origin in a natural, processed or treated form, which is to be consumed by humans or animals or used as planting and seed material.
The Standard does not clearly define the term "organic product" but if a product complies with the provisions of the Standard, it is considered an organic product.
Generally, the Standard prohibits for the production of organic products any GMOs and products made with GMOs. The production area must also be located far away of any sources of environmental pollution or areas of intensive agricultural production.
Manufacturers of products complying with the Standard's requirements, may label their product "Organic product".
The Federal Service on Technical Regulation and Metrology (Rosstandart) performs accreditation of a production process for compliance with the Standard. Additionally, there are so-called "accredited certification bodies" that are equivalent to the EU standards for the third countries for organic production and processing.