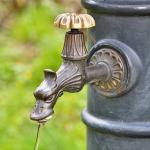 A permit to drill a groundwater well is to be issued to organisations that perform such drilling and have the necessary technical capacity and sufficiently qualified personnel.
 In order to apply for a permit, the applicant must submit a permit application to the local hydro-geological station.  A permit is to be issued for each well separately.
The application must contain the required information, including a copy of the document evidencing the right of the applicant to own or use the land plot where the well is to be drilled.
The application must also contain a copy of the positive conclusion of the state environmental expert assessment for the intended drilling of a well and the information on the technical capacities of the applicant (including technical documentation for the equipment that is to be used for drilling).
The authorities are not allowed to request any additional documents other than those listed by the adopted procedure.
No permit is required for physical persons intending to drill a well with the depth less than 25 meters which is intended to be used for the persons' own needs and if the maximum volume of abstracted water does not exceed 5 cubic meters a day.
Law: Decree No. 430 of 27 June 2017 on Measures Aimed at Further Regulation of Activities Involving the Use of Groundwater