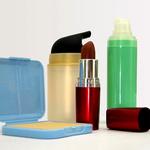 The recent prohibition of MIT (Methylisothiazolinone) in all leave-on cosmetics marketed in the European Union triggered the start of public campaign in Russia. The campaign is led by the media project "LookBio" and the website ekokosmetika.ru.  The aim of this campaign is to totally exclude MIT from child cosmetic products placed on the Russian market. A petition was created at the change.org that calls for Russian cosmetics manufacturer to replace MIT and another chemical called Methylchloroisothiazolinone (MCI) with less harmful ingredients for child cosmetics.  
MIT (often used in conjunction with MCI) which is linked to an increasing number of allergy reaction incidents during the past years, is still permitted for use in Russia (and within the Euroasian Economic Union) in any type of cosmetic products, including child cosmetics.
As at mid-July 2016, the results of the petition were considered "disappointing" since not all members of "natural cosmetic" manufacturer society not only  refused to support the petition but even criticized the campaign organisers for choosing to target this particular chemical rather than a broader range of harmful chemicals.  
Only 1278 people signed the petition but some results have been achieved. Thus, the Russian Perfumery and Cosmetics Association informed that the proposal to change the status of all preservatives in line with the changes in the EU legislation during 2011 – 2016 had been included into the draft Amendments No. 2 to the EEU Technical Regulation on the Safety of Perfumery and Cosmetic Products. It is expected that the preservatives which are potential allergens will be banned from EEU cosmetic products in the not-so-distant future.