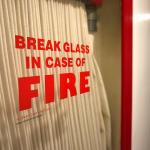 As of 26 September 2017, a number of important amendments to fire safety regulations enter into force in Russia. The amendments to the fire safety requirements have been introduced by Decree No. 947 of 20 September 2016.
Separate fire safety instructions are also compulsory for category A and B premises
Employers are required to develop and approve separate fire safety instructions for category A, B and V1 premises (in addition to each building or structure as a whole). Previously, a separate fire safety instruction was only required for category V1 premises with a fire-explosion or fire hazard. As of 26 September 2017, employers must also adopt fire safety instructions for category A and B premises.
Employers are no longer required to organize constant (24-hour) fire safety duty posts at industrial and warehouse premises. 
The head of an organization must organize regular check-ups of the state of fire-retardant impregnation of engineering equipment (ventilation, air conditioning, water supply, etc.) and parts of buildings and structures, in accordance with the manufacturers' instructions. The results of the check-ups must be recorded in a form of protocols. If no such instructions are available, the check-ups must be organized at least once every year. When the warranty of the manufacturer set for the fire-retardant treatment ends, the head of the facility must organize a subsequent fire-retardant treatment for the relevant parts of buildings and structures as well as for the relevant engineering equipment.
The amendments have added the obligation of employers to remove snow and ice from external fire safety ladders and roofs during winter season.
It is now possible to install mains sockets in warehouses. However, it has become prohibited to use in warehouses any gas stoves and electrical heating devices.
The changes have also impacted the requirements on the use of firefighting equipment. For example, for premises where different types of combustible materials are stored and different types of fire are possible, it is now compulsory to use universal fire extinguishers (i.e. those suitable to extinguish different fire types).