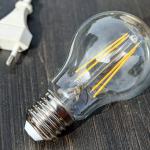 Draft Government Decree approved Requirements for Lighting Devices and Electric Bulbs used in AC Circuits for Lighting.
The Ministry of Energy of the Russian Federation has introduced for a stakeholder consultation a proposal that would impose energy efficiency requirements for electric light bulbs and other lighting devices.   
The draft Decree imposes minimum energy efficiency requirements for lighting devices and electric lamps used in AC circuits. The Draft Decree would not apply to lamps with a luminous flux below 150 lumens. The Draft Decree aims to phase-out less energy efficient lamps in the Russian Federation and to generally reduce energy consumption. 
Law (draft): Requirements for Lighting Devices and Electric Bulbs used in AC Circuits for Lighting, Draft Government Resolution, September 2016