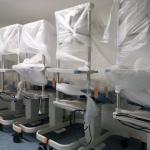 Manufacturers and importers of medical devices that submit a registration application for these devices after 24 March 2017, have to ensure that their technical documentation contains all required information, as prescribed by the adopted Order No. 11n dated 19 January 2017. This technical documentation is to be submitted as a part of a registration dossier for any medical devices.
The technical documentation for medical device must contain the information on the potential users of the medical device, the information on the validation and verification of the devices that was used as a proof of compliance of the device with the applicable requirements.
The technical documentation must also include the relevant test reports, test records, the analysis of the obtained data and other information. Some additional requirements are set out for devices used for in-vitro diagnostics.
The information that the manufacturer must provide in the operational documentation for a medical device include technical specifications of the device, frequency of technical service (including evaluation and disinfection of the device), the procedure of treatment of the device for its repeated use (including cleaning, disinfection, packaging and, if necessary, secondary sterilization) as well as the criteria determining when the device is unsuitable for further use. For in-vitro diagnostic devices extended requirements are set out.
Law: Order No. 11n of 19 January 2017 on the Requirements for the Contents of Technical and Operational Documentation to be Provided by Medical Product Manufacturers