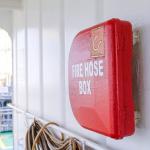 As of 3 October 2017, fire safety rules of Ukraine (the Rules) have been amended. The amendments clarify existing requirements and also impose a number of new fire safety requirements. The Rules apply to all organisations regardless of the type of their activity.
The amendments clarify that not only the head of the organization is empowered to approve fire safety instructions for all premises of a building or structure but also a person authorized by the heard of the organization.  They also clarify that a fire safety instruction is not required for premises like shower rooms, washrooms, toilets, corridors and lobbies.
The amendments introduce the prohibition to decrease fire safety level of a building or structure that was initially prescribed by the legislation at the moment the building or structure was put into operation.
Other amendments revise the provisions regulating fire safety of premises, evacuation exits, the use of electrical appliances on premises, the use and availability of firefighting equipment, handling of flammable liquids (including petrochemicals), etc.
Law: Order No. 657 of 22 August 2017 on Amending Fire Safety Rules of Ukraine