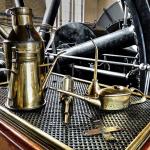 As of 5 April 2018, manufacturers and importers of technical oils are obliged to comply with the safety requirements adopted by the Technical Regulation on the Safety of Technical Oils.
The adopted Technical Regulation imposes fire safety, environmental safety, labelling and packaging requirements applicable to technical oils. The main aim of the Technical Regulation is to protect life and health of people as well as their property and the environment and to prevent any actions that may lead to confusing the consumers.
The adopted Technical Regulation will not apply to:
- products purchased in accordance with any contracts for the procurement of military equipment;
- plant and animal oils, oils obtained as a result of high-temperature distillation of coal tar (including creosote), oils used for the manufacture of perfumes and cosmetics, medical devices and medicines.
 Law: Technical Regulation on the Safety of Lifts adopted by Decree No. 783 of 2 October 2017